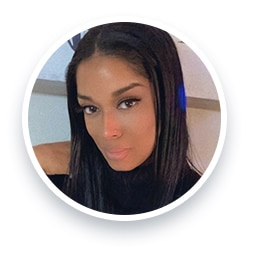 My name is Alicia Tolson.
My career in Operations Management in the Legal Industry lasted over a decade, but I always felt there was something missing and I wasn't living my purpose to the fullest. Staffing efforts were one of my responsibilities, as well as motivating and leading staff to reach individual and collective goals. While it was great to make a difference in people's lives back then, I always wanted to reach more people. Stepping into my purpose required more courage than settling for a profession in which I thrived, but still lacked something. As a Professional Recruiter, I now had the chance to step into my true passion. Making a tangible impact on someone's career, and even better yet, their life, is incredibly fulfilling. I truly enjoy having the platform and opportunity to do so. I am compassionate by nature and always strive to positively affect the world around me, and now, I get to do it everyday! I can confidently say I am walking in my purpose.
Working with me is like having your own career coach, motivational speaker, and professional advocate who walks you through every high and low in your pursuit of employment. As I work with my candidates, I spend time getting to know them so that I can better understand their goals. While I do not offer false hope, I do build confidence in my clients during the hiring process. I dedicate my time, efforts, and resources to get you to the finish line, that is, only if you want it. As well as providing ease during the job hunt, I also provide insight into the client's expectations and goals. As part of my preparation for the client, I prepare a polished portfolio, highlighting the qualities that make you a great fit. As a final point, I excel at preparing candidates for interviews and advocating for the best salaries.

I have had such a wonderful experience working with Alicia. I love how she takes the time to go above and beyond by keeping me motivated and her willingness to help with whatever questions I may have. If it's not in her expertise she always find a way to get an answer to my questions. Alicia your a such a team player. I truly adore how you always make me feel as a family member with ideal instead of just another employee all while keeping it in such a professional way. It is such an honor working with you.

My recruiter Alicia has always been great and a pleasure to work with she has great
communication always on her game and makes things easy and is very effective no complaints.

My boyfriend recommended me to ideal and to go through Alicia. He told me she will make sure you get a job , and boy was he not kidding around . From the moment I contacted Alicia she has been a pleasure to work with . She is so quick , efficient , friendly and sets you up for success . In my case , I went to one interview and got offered the job the same day . Alicia sent me an email to prepare you beforehand and it really made a big difference . She walks you through the whole process , makes sure you get the hourly wage you deserve and goes above and beyond . Very excited to start my new job . Thank you !