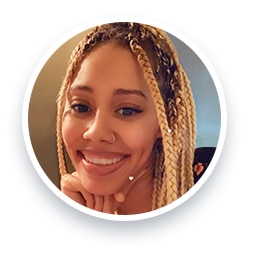 My name is Taylor Carmichael.
I love my job in recruiting because I sincerely enjoy the moment I get to tell my candidate "YOU GOT THE JOB"! I purely enjoy going through the hiring process with each of my candidates from beginning to end to help them find the job that will make a difference in their lives. I have worked as a Recruiter previously in a different setting, but my career as a Recruiter in healthcare gives me a different perspective because I get to make an impact on my candidates life which ultimately results in impacting their communities. I specialize in clinical opportunities which allows me to build great relations with healthcare heros.
Working with me is like having your own personal "fairy Godmother"! I am forthcoming with all information about the position and my candidate's best interests are at heart when moving forward in the hiring process. I use my bright personality to bring a sense of ease to my candidates during the job search. I find out all the details beforehand and I do not hesitate to ask questions that will help me to advocate best for them. My favorite thing about my job is meeting new candidates, learning about their backgrounds, sharing great job opportunities, and placing them in amazing jobs!

It´s was a great, profesional, and clear experience. Taylor made sure to always comunicate clearly and in a timele manner.

Taylor is awesome she is such a huge help she is always checking up on me making sure I´m good and comfortable at my new position thank you Taylor so much your amaizing